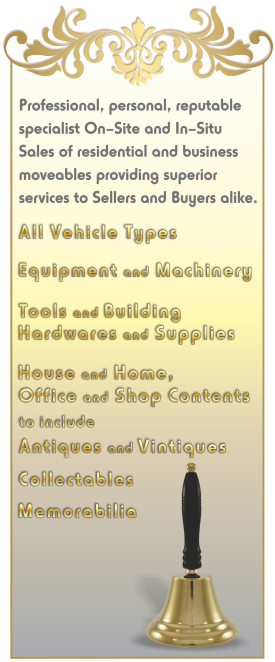 What is a Live Tender Sale?
The items are offered for sale with a deadline for bids to buy them.
Interested parties submit their best offer for each item or group of items, without seeing or knowing anyone else's bidding price.
The Services We Provide
We warmly invite both business concerns and individuals to engage us to help you sell your moveable assets. Bring our Auction or Tender Sales to your moveable property contents, rather than selling your moveable property anywhere else or with anyone else!
We guarantee to provide our valued Sellers, Owners and Principals with professional, specialised, superior sales services in all situations, at all times.
In-Situ Residential Sales
We specialise in the conduct of well-organised professional Public Auction and Tender Clearance, Dispersal or Reduction Sales In–Situ for residence contents, for Sellers and Executors of Deceased Estates, including Antiques, Vintiques, Collectables and Memorabilia.
On-Site Business Sales
We also specialise in On–Site Business Liquidations and Executions of Clearance, Dispersal and Reduction Sales, of second hand Vehicles, Equipment, Machinery, Plant, Tools, Building Materials, Supplies and General Hardwares, for Companies, Partnership and Individual Businesses.
Whilst the majority of our Sales take place in Harare, we have conducted, and do offer, our Sales services nationwide, providing the logistics and costs of such are in place.
Private Out of Hand Sales
We receive and collect weekly from Sellers, the following, and more, for our Private Sales of:
Vehicles, Equipment, Machinery, Tools, and all and any Hardwares, plus House or Office or Shop contents, including Antiques and Vintiques, etcetera.
Special circumstances - Covid19
Under normal circumstances, we conduct Auctions, Private Sales and Tenders of any and all Moveable Assets. This includes weekly Out-of-Hand Private Sales from our premises, on a sliding scale of commission.
Given the on-going Covid19 situation, as an alternative to Public Auctions, we instead offer Tender and Private Sales, only with all Covid19 Protocols observed.
Despite the pandemic, and all the necessary precautions around Covid19, we can still very capably conduct Clearance, Dispersal and Reduction Tender Sales of any and all Business On-Site or Residential In-Situ Home, Shop and Office Moveable Contents.
We have found by experience during 2020 that physical Tender Sales are the viable alternative to Auction Sales, while abiding by the Covid19 restrictions. Sellers receive better financial returns, and in hard currency. Buyers find the experience more convenient and have more time available to consider submitting higher bids.
Buyers can join our email or SMS sales notification lists, to receive notice of forthcoming sales.
Email us NOW to be added to our lists: info@aaauctionszw.com
What is a Live Auction Sale?
Buyers compete for the item or items offered, by openly placing their bids.
Buyers know what offers they are competing against and can out-bid them to attain what they want to buy.